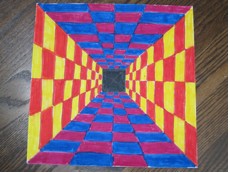 LESSON PATTERN INSTRUCTIONS
PERSPECTIVE/SPACE
TUNNEL OP ART
Lesson Objectives: To introduce the children to the art form of Optical Art and to show how artists use color and line to trick the eye.
Time Required: 1 hour
Artist: Youri Messen-Jaschin, Broadway, 1998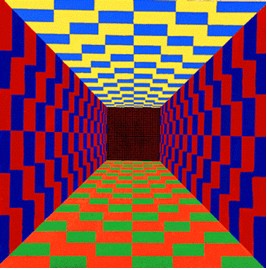 Website: http://www.abstract-art.com/abstraction/l3_more_artists/ma15a_messenjaschn.htm
Also, video on YOUTUBE:
http://www.youtube.com/watch?v=8fTaxYDFysE&feature=player_detailpage
Materials:
Square white paper
Pencil
Ruler
Colored Pencils or Markers (markers will be more vibrant)
Presentation:   
Discuss how line is used to show movement, perspective and space to create an optical illusion of depth on a flat piece of paper.
Procedure:
1.  Using a ruler and pencil draw a line from corner to corner.  Repeat for other corners. 
2.  Next draw a box in the center connecting the four diagonal lines. 
3.  Draw lines parallel with the line from the inner box in each section gradually spacing them farther apart as you get to the edge of the page.  Work from one section to the one next to it so the lines line up and touch.  See example in Binder.
4.  Draw vertical lines coming out from the square in the middle at equal intervals in each of the four sections.  Make sure each section has the same number of lines. 
5.  Color alternating two colors in each section.  Corners of the same color touch but two squares next to each should never be the same color.