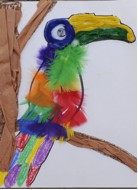 LESSON PRESENTATION INSTRUCTIONS
TEXTURE 
TOUCAN 
Lesson Objectives: Students will draw and decorate a toucan using mixed media to create texture.
Time Required:  1 hour
Artist: Sherry Markovitz, Bears Lair
Materials:
White poster board
Pencils
Elmer's glue
Black sharpies
Markers
5-6 other textured materials to decorate with (check Textures bin in Explore Art room.)
Mounting paper
Presentation:
    Discuss texture. How do certain surfaces feel? Demonstrate how to draw a toucan. 
Procedure:
Hand out paper and have the students put their names on the back. Guide them step by step on how to draw a toucan.
Have them trace their toucan with a sharpie and color with markers.
Have them paint glue on the areas that they will put embellishments on.