LESSON PRESENTATION INSTRUCTIONS
TEXTURE 
TEXTURE TREASURES
Lesson Objectives: Students will learn how to use different textures to create an abstract collage.
Time Required: 1 hour
Artist:  Anselm Kiefer, Burning Rods, 1984-87  (oil, acrylic, emulsion, and shellac on canvas with ceramic, iron, copper wire, and lead)
                           http://www.slam.org/emuseum/code/emuseum.aspstyle=Browse&currentrecord=1&page=search&profile=objects&searchdesc=burning%20rods&quicksearch=burning%20rods&newvalues=1
&newstyle=single&newcurrentrecord=1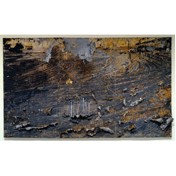 Anselm Kiefer, Your Golden Hair, Margarete, 1981 (Oil, emulsion, and straw on canvas)
   http://www.artchive.com/artchive/k/kiefer/goldhair.jpg.html




Source: The Usborne Complete Book of Art Ideas, pages 226-227, 285                            
Materials:
Tag board 12×12
Elmer's glue
Scissors
Scrap paper, buttons, cardboard, sandpaper, wire, yarn, burlap, beads, anything that has texture (Check Texture bin in Explore Art room)
Presentation:
Describe what texture is and define examples: rough, bumpy, smooth, scratchy, etc. Discuss that this is actual texture, meaning that if you touch it, it will feel bumpy, scratchy, etc, as opposed to implied texture, where it looks like it might have texture, but it actually feels smooth (like a painting of barbed wire).
Procedure:
Pass out tag board. Write names on back.
Students may select 9 pieces of collage material for their bottom layer and lay  them on their tag board.
Each of the 9 pieces can now be layered with 2-3 other collage materials.
Once a square is done, it can be glued down to the tag board.