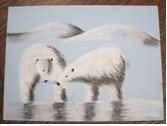 LESSON PATTERN INSTRUCTIONS
LINE and VALUE
POLAR BEARS ON ICE
Lesson Objectives:  To teach the student how simple lines can create a complicated subject and how to use lines in your artwork to create texture and value.
Time Required:  1 hour
Artist:  Wyland:  Polar Bear Ice, 2010      Polar Bear & Baby (available online)




Source: Usborne, Big Book of things to Draw, pgs. 46 & 47.
Materials:
Light Blue Paper
While and Black Chalk Pastels
Presentation:    Show the students examples of how line is used in art.  Show how it can produce texture, shapes and value. 
Procedure:
            1.  Walk the students through drawing the outlines of the polar bears with white chalk step by step as shown on the attached sheet.
            2.  Use black chalk pastel to darken the undersides of the bears.
            3.  Use white chalk pastel to fill in the bears.
            4.  Smudge the black and white to blend to grey where they meet.
            5.  Using the black and white chalk pastels, make small lines in one direction for the fur. 
            6. Use the black chalk to add detail like eyes and nose. 
            7.  Draw in the ice below with shadows for the bears, and some hills in the background.