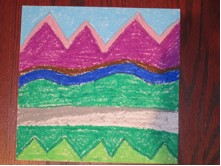 LESSON PRESENTATION INSTRUCTIONS
LINE
MOUNTAIN LANDSCAPE
Lesson Objectives: To show students how line is used in art to create definition, shapes, a sense of space and depth.
Time Required:  1 hour 
Artist: Richard Diebenkorn, Cityscape I, 1963 and Berkeley No.52 (available online) 

White paper
Pencil
Oil Pastels
Presentation:   
Discuss how line is used in art and how it draws the eye around the artwork. Show how different types of lines used in artwork and how lines are found in nature and in natural landscapes
Procedure:
1.  Begin by drawing a jagged line along the bottom of the page. A little further up draw a straight horizontal line.  Then draw another straight horizontal line about and inch and a half above the first one.  Draw a diagonal line between the two parallel straight lines.  A couple inches up the page draw a set of three wavy lines spaced close together, following the same curves.  Draw two more jagged lines, these will be your mountains.
2.  Color in with oil pastels.  Green for the bottom two sections (grass), grey for the section with the horizontal line (the road), green (more grass), blue (river), brown (river bank), students may chose color for mountains, blue for the sky.