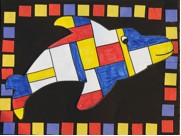 LESSON PRESENTATION INSTRUCTIONS
SHAPE 
MONDRIAN ANIMALS 
Lesson Objectives: Students will learn about Piet Mondrian's art and create their own piece of art in his style while learning about shape.
Time Required:  1 hour
Artist:  Piet Mondrain, Composition (Blue, Red, and Yellow)
Materials:
White construction paper 9×12
Markers: blue, red, and yellow
Black Sharpies
Rulers
Red, blue, and yellow squares (optional)
Glue sticks (optional)
Presentation:
Discuss Piet Mondrian and his style of art. He liked to use only blue, red, yellow, black, and white in his paintings because he felt they were accessible to everyone. This is the same reason he used rectangles and squares.
Procedure:
Pass out white construction paper and write names on back.
Draw a realistic or fantasy animal with a pencil, making sure it's large enough to fill the page. Outline the animal with black Sharpie.
Using a ruler, draw vertical and horizontal lines on the animal with black Sharpie.
Select some shapes to color blue, red, and yellow, leaving some white.
Mount on contrasting paper, OR cut out animal, glue onto black 9×12 construction paper, and create a frame around the animal with red, blue, and yellow squares.