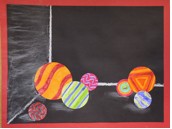 LESSON PRESENTATION INSTRUCTIONS
SPACE
BIG MARBLES
Lesson Objectives: Students will learn about space in art by creating overlapping marbles.
Time Required:      1 hour
Artist: Paul Cezanne, Still Life with Basket
Source: http://www.thatartistwoman.org/2010/04/big-blue-marble.html
Materials:
Black construction paper 9×12
White construction paper pre-cut into different sized circles
White chalk pastel
Markers
Rulers
Presentation:
Discuss space in art: how you can make something look closer or further away by overlapping objects.
Procedure:
Pass out black paper. Write names on back.
Guiding the students step by step and using the ruler, draw the 3 lines with white chalk pastel to make the paper look like the corner of a room (see sample).
Color circles of all different sizes with markers.
Glue on the marbles (circles) using these 2 rules:
                   a)     They must be on the floor! (No floating marbles!)
                   b)    They must overlap! (1 or 2 can be on their own, but the majority should overlap each other in some combination.
With white chalk pastel, shade one wall and add shadows underneath the marbles.