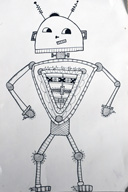 LESSON PRESENTATION INSTRUCTIONS
LINE
 
LINE ROBOTS
Lesson Objectives: Students will learn to draw a robot using different types of lines.
Time Required: 1 hour
Artist:  Wassily Kandinsky, Throughgoing Line (available online)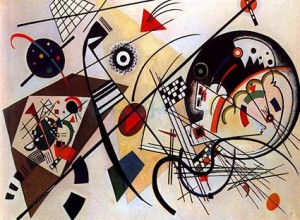 Source: Deep Space Sparkle
Website: http://www.deepspacesparkle.com/2011/04/04/robot-line-drawing/
Materials:
12 x 18 white construction paper
Thin and Thick Black Sharpies
Presentation:
Discuss the different kinds of lines: straight, curvy, wavy, zigzag, etc. Show how cross-hatching (small tic-tac-toes) can add shading. Discuss the different lines Kandinsky uses in his work Throughgoing Line.
Procedure:
Pass out the white paper. Write name on the back.
Show students how to draw a robot step-by-step,  beginning with the head. Continue on with a neck, body, arms, legs, and especially the "joints" connecting each body part together, like a real robot. Give lots of options so they can jump start their own imaginations and create a robot that looks like none other!
Make sure the robot fills the entire page!
Continue to add details to the robot utilizing all the types of lines the students can think of.
Use crosshatching to add shading to one side of the arms and legs for realism.
Mount and display.