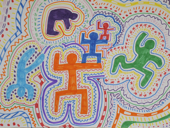 LESSON PRESENTATION INSTRUCTIONS
COLOR AND PATTERN 
KEITH HARING FIGURES
Lesson Objectives: Students use simple lines and contrasting colors to create a painting in the style of Keith Haring.  
Artist: Keith Haring: Untitled (available online)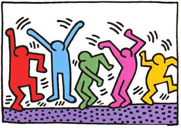 Source: http://www.deepspacesparkle.com/2010/05/10/keith-haring-rocks/
Time Required:      1 Session
Materials:
Scratch paper & pencils
9×12 White construction paper
Markers
Black Sharpies
Presentation:
Show examples of Keith Haring's work.  What do you notice?  What design elements are found in his work that make it recognizable?  What is he trying to say?  How do the colors affect the art?  (Simple, bold, bright & contrasting colors, expressive, active, easy to understand at a quick glance) How does he show movement and action? 
Procedure:
Have students practice sketching simple figures using contour lines only (just the outline, no details).  Try different poses, i.e. handstands, leaping, etc.
When comfortable, draw several figures on the construction paper. Color in each figure with only one color.
Add lines to show movement.
Surround the figures with patterns of all different colors.