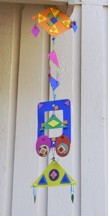 LESSON PATTERN INSTRUCTIONS
SHAPE
GEOMETRIC MOBILES
Lesson Objectives: Students will learn about shape and balance will create a mobile.
Time Required:  1 session
Artist:  Alexander Calder, Lobster Trap and Fish Tail, Timothy Rose, Mobile 007, 2003 (available online)



Source: Dynamic Art Projects for Children, pgs 89-92
Materials:
Colored  paper clips
Paper pre-cut in a variety of shapes
Scraps of colored paper, foam shapes or embellishments
Hole punches
Scissors
Presentation:    Discuss shape. Discuss balance and how mobiles will need to be balanced or they will slant to one side.
Procedure:
Pass out paper clips and pre-cut pieces.
On their desks, have students experiment with their layout.
Students may embellish shapes with smaller shapes cut from scrap paper, foam shapes, or other embellishments.
Punch holes when ready and attach pieces together with paper clips.