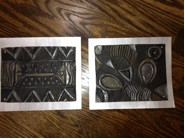 LESSON PATTERN INSTRUCTIONS
TEXTURE 
BLACK FOIL REPOUSSE
Lesson Objectives:  To learn how artists use texture in art.  To introduce the students to the art of Repousse.
Time Required:  1 hour
Artist: Teach the students about the art form of Repousse and how it has been used over the centuries and by the many cultures that have used it.

Website: There is a lot of information on line on techniques and tools used, as well as examples of the art form.
Materials:
Black Foil
Silver and Gold colored pencils
Sticks for carving
Magazines
Presentation:    Show the students how texture is used in art. Repousse is the process of working to emboss designs on metal from the backside of the metal.  Show how repousse art is done, what tools are used and what techniques.  Show examples from various cultures and centuries of repousse art. 
Procedure:
            1.  Have each student think about a design they would like to do.  They may draw it on scratch paper first.
            2.  Turn the foil upside down on a magazine so you have a soft surface on which to work.
            3. Using the wooden stick, draw on the foil to create lines, designs, patterns etc.
            4.  Talk about how the metal is embossed on the right side if you carve on the back.
            5.  Turn the foil over and fill in areas with the metallic colored pencils.