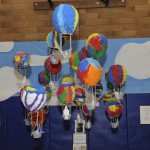 The FAQ's of Art Walk
What?
Art Walk is an annual Explore Art event that showcases each student's artwork from every classroom, recognizes the Explore Art docents and volunteers, and raises funds to support the Explore Art Program. This is one of the few PTSA events that represents the entire student body and therefore every effort is made to have a display that includes artwork from every student in your class.
Why?
Explore Art is completely funded by the PTSA. The funds raised at this event are used to supplement the Explore Art budget and will be used specifically for Explore Art materials and supplies. The more funds raised, the more opportunities there are to enhance the program.
How?
The artwork is displayed in the gymnasium, gallery-style. Admission for the event is free; however, a $2-3 donation is suggested but not required. With a donation, parents receive a "SOLD" sign that they can attach to their own child's artwork as a simple acknowledgement. The "SOLD" sign means a lot to the kids. All the artwork, including all "purchased" pieces, will remain at the event until the end of the evening. Every piece of artwork is returned to the original artist after Art Walk.
Traditionally, classes display their project lesson from January on the rotation schedule. If you are using a project from the Explore Art program, it is important that you consider the rotation schedule in this folder so that duplicate art pieces are not displayed.
Due to limited display wall sizes, unless you plan on using the gym wall, please limit the size of you project to no larger than 8 ½" x 11" plus a matte. This will insure that all art pieces are given ample space to truly be appreciated. If you need a table for your project instead, please let us know.
Who?
The Art Docents and parent volunteers are responsible to set up and take down their art the day of art walk. After school is out on the day of Art Walk, parents will come in to set their classrooms' artwork in its designated space. At the end of Art Walk, a parent volunteer needs to take down the art and be responsible for getting it back to the classroom to go home the next day with the students.
When
Event Day: Thursday, March, 3th from 6:00 – 8:00 pm