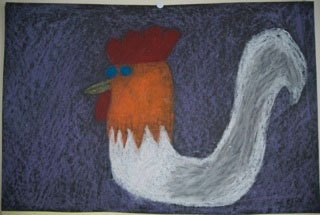 LESSON PATTERN INSTRUCTIONS
COLOR
PABLO PICASSO ROOSTERS 
Lesson Objectives: Students will learn about the use of color while creating a rooster in the style of Pablo Picasso.
Time Required: 1 hour 
Artist & Print: Pablo Picasso, Le Coq, other rooster paintings and drawings by Picasso (available online)
Source: A Glimmer of Light
Website: http://ksmaghini.blogspot.com/2012/02/roosters-are-in-house.html
Materials:
Black construction paper 12×18
Oil pastels
Presentation: Point out the characteristics that Picasso used in his artwork, like his use of bold colors. Show examples of real roosters.
Procedure:

1. Pass out the black 12 x 18 black construction paper. Write name on back.
2.     Using images of roosters, show students how to draw a rooster large enough to fill the paper. (See handout in binder.) Use a light colored oil pastel to draw the outline of the rooster. Mistakes can easily be blended away when adding color to the rooster.

3.   Color the rooster using blending techniques. Fill the whole page with bold colors.
4.   Name the rooster.