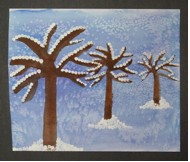 LESSON PRESENTATION INSTRUCTIONS
SPACE 
WINTER TREES OR SPRING WINDMILLS 
Lesson Objectives:  Students will create a winter landscape that shows the illusion of depth.
Time Required:      1 hour
Artist: Andrew Dasburg, Chantet Lane
Materials:
Watercolor paper 9×12
Watercolors (blue, purple, black)
Paintbrushes
Salt
White tempera paint
Q-tips
Presentation:
Discuss space in art: creating a picture that appears 3-dimensional and on 2-dimensional piece of paper. Note that objects closer to you are larger and more detailed. Things further away from you are smaller and less detailed.
Procedure: 
BEFORE PRESENTATION: Pass out watercolor paper taped to a board. Write names on blue tape. Turn the paper horizontal.
Show the students how to do a wet-on-wet background wash: Get the entire piece of watercolor paper wet with a brush, and then apply a mixture of blue and purple watercolors for a dynamic winter sky. While still wet, sprinkle salt on the painting and let dry. The salt will absorb color in those areas, making it look like it is snowing. Set aside to dry.
AFTER PRESENTATION: Going back to the dry painting, gently brush off salt. Have students use black watercolor to paint 3 trees and their branches: one large and close, one medium and further back, and the final tree small and the furthest away.
Students may use white tempera paint with paintbrushes and/or Q-tips to add snow to the ground and the branches.