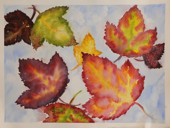 LESSON PRESENTATION INSTRUCTIONS
VALUE 
WATERCOLOR LEAVES
Lesson Objectives:  Students will use different watercolor techniques to make a leaf design. 
Artist: Laura Tasheiko, Fall Leaves #22 (available online)

Time Required: 1 hour
Materials:                                                                               
Watercolor paper taped to cardboard
Pencils
Paintbrushes: thin and regular
1-2 leaves
Watercolors
Watercolor pencils
Water and cups
Paper towels
Tissue
Presentation:
Talk about the shape of leaves and their structure: veins, stems. Talk about the different colors and their value changes, the way one color transitions into another. Discuss overlapping.
Procedure:
Pass out watercolor paper. Write names on blue tape.
Take a leaf and arrange it in the corner of the paper. Trace it with a tin sketchy line.
Remove the leaf and re-position it, slightly overlapping the 1st leaf. Keep doing this until you have 6-8 leaves on the paper.
With the regular-sized brush and lots of water, select a color and start painting in the background. Keep the paper inside the leaves dry.
Fill in each sketched outline with pencil lines representing the veins.
With the watercolor pencils, color the veins and the color patches on the leaf.
Fill in all the leaves.
With clear water, paint over each leaf to blend the watercolor pencils.
Sprinkle salt over the painting while still wet.