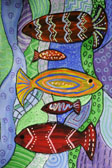 LESSON PRESENTATION INSTRUCTIONS
VALUE
TINT AND SHADE FISH PAINTING
Lesson Objectives: Students will learn about tints and shades while creating an underwater scene.
Time Required: 1 session or 2, depending on medium used (see Note)
Artist: Georges Seurat, A Sunday Afternoon on the Island of La Grande Jatte
Source: Deep Space Sparkle
Website: http://www.deepspacesparkle.com
Materials:
12 x 18 white construction paper
Tempera paint: red, orange, yellow, white, black, green, blue, purple
Paintbrushes, large and small
Paper plates or paint palettes
Water
Dixie cups
Presentation:
Discuss value. Tints are colors that have white added to them, creating a higher value (lighter color). Shades are colors that have black added to them, creating a lower value (darker color).
Procedure:
Pass out the white 12 x 18 white construction paper and lay it vertically. Write name on back.
Using pencil, draw the outline of 3 fish only: details will come later!
Divide the background with some gently wavy lines to simulate seaweed.
Paint the fish by creating shades of color: red, orange, or yellow mixed with just a touch of black paint: a little goes a long way!
Paint the background with tints: blue, green, and purple mixed with white.
Using a small brush, add details to the fish, such as eyes, stripes, or polka dots. (Using the handle of the paintbrush dipped in paint is a great way to create uniform polka dots.)
Using watered down black tempera paint and s mall paintbrush, outline fish and sections of seaweed.
NOTE: An alternative would be to wait until the paint dries completely. During a 2nd session, do the outlining with black oil pastel and use colored oil pastels to add swirls and patterns to the background sections.