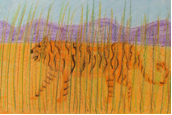 LESSON PRESENTATION INSTRUCTIONS
SPACE 
TIGER IN LONG GRASS
Lesson Objectives: Students will learn about space and chalk pastel techniques while creating a tinge in long grass. 
Time Required: 1 hour 
Artist: Henri Rousseau, Surprised! Storm in the Forest (available online)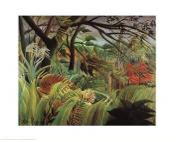 Materials:
White construction paper 12×18
Chalk pastels
Fine tip markers
Colored pencils
Glue sticks
Scissors
Presentation:
Discuss space in art and how depth can be created by overlapping and size: objects in front are larger and more detailed while objects further away are smaller and less detailed.
Procedure:
Draw a straight purple line about 1/3 of the way from the top.
Add hills above the line with the purple chalk. Blend in some gray to make them look far away.
Add in a blue sky.
Use the side of the orange chalk to fill in the area below the purple hills: the foreground.
Draw an outline of a tiger. Make the tiger big to show that it's close to the viewer, and have the very top of its back overlap the base of the purple mountains.
Add stripes and details with orange, white, and black chalk.
Let the black stripes bleed with the other colors where they overlap.
Draw lots of long grass in front of (directly over) the tiger with greens and browns.