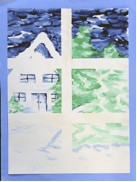 LESSON PRESENTATION INSTRUCTIONS
VALUE 
THE VIEW FROM MY WINDOW
Lesson Objectives:  Students will learn about value.
Time Required: 1 hour 
Artist: Claude Monet, Floating Ice
Materials:
9×12 white construction paper
Masking tape
Tempera paints: blues, greens, white
Small paintbrushes
Water and cups
Paint trays
Paper towels
Presentation:
Discuss what value is in art. The more light there is in a color, the higher in value it is. (lighter color). The less light there is in a color, the lower in value it is. (darker color).
Procedure:
Pass out the white paper. Write names on back. Orient paper vertically.
Place 3 strips of masking tape on the paper to create a window: one long piece down the center; 2 smaller pieces across. (see sample).
Show students how to mix white with green and blue to create different values of the colors.
Show how the colors are darker (lower in value) in the window sills, roof line, inside of trees, etc.
Beginning in one window pane, guide the students to paint in the scenery.