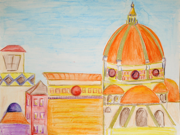 LESSON PRESENTATION INSTRUCTIONS
SHAPE 
ST. MARK'S SQUARE
Lesson Objectives: Students will learn how to use shape to create a skyline of domed buildings.
Time Required: 1 hour
Artist: St. Mark's Square, Venice, Italy (available online)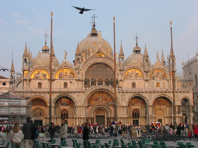 Materials:
Tag board 11×14 or watercolor paper 9×12
Pencils
Rulers
If using tag board: Colored pencils
If using watercolor paper:
     Paintbrushes
     Cups for water
     Watercolors: red, orange, orange-yellow, yellow, black, brown, green, light green, blue-green
     ¼ inch strips of painter's tape to tape paper to cardboard

Gold felt-tip pen or gold acrylic paint 
Presentation:
Discuss different shapes.
Procedure:
Pass out paper. Write names on back (tag board) or on tape (watercolor paper).
Use a pencil and a ruler to draw several large rectangles on the paper. Make them different sizes and overlap them.
Add domes and turrets , using different sizes and shapes.
Add details: windows, doorways, columns, and arches.
Color in with colored pencil or watercolors.
When dry, fill in domes with a gold felt-tip pen of gold paint.
Use the gold to add in patterns to the building.