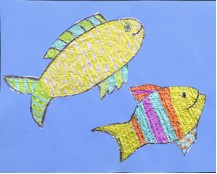 REPOUSSE FOIL FISH
TEXTURE
REPOUSSE FOIL FISH
Lesson Objectives:  To introduce the students to the art of Repousse and how texture is used in art. 
Time Required:  1 hour
Artist: The Great Plate of Bacchus, from the Roman Mildenhall Treasure, 4th Century AD, Discovered in 1942 (available online)



Materials:
Paper with plastic netting attached (in Texture bin in Explore Art room)
Foil
Markers
Scissors
Glue 
Presentation:    Discuss how Repousse is done, what tools are used and give examples of items done throughout history.  Talk about how texture is used in art.
Procedure:
            1.  Lay a piece of foil over the plastic netting and tape to the paper.
            2.  Have the kids rub their fingers over the foil to make the pattern of the netting show
                  through the foil. 
            3.  Color the fish with bright colors.
            4.  Cut out and mount on bright paper.