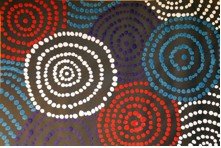 LESSON PATTERN INSTRUCTIONS
PATTERN
RADIATING SAND ART
Lesson Objectives: Students will learn about pattern while creating concentric circles in a radial design.
Time Required:  1 session
Artist:  Chuck Thurston, Radial Symmetry #3 (Scroll down on website for Radial Symmetry # 1, 2, 3 & 4) 



Website: http://www.thurstondesign.us/ct-art.html
Materials:
Rectangular pieces of cardboard or leftover mat boards (from framing shops)
Q-tips or the end of a paintbrush handle
Tempera paint: red, blue, yellow, white
Fine sand
Small containers for paint
Presentation:   
Discuss pattern, concentric circles, and radial design. 
Procedure:
Mix sand into paint using enough sand so it will be thick but still creamy.
With pencil, draw 6 dots on paper spread out from each other.
Select one dot to begin with. Paint a dot in the center, then add dots around it to make a circle. Keep adding until you have 4-5 concentric rings around the dot.
Move to another dot and repeat the process.
Continue until the entire page is filled.