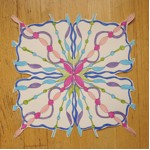 LESSON PRESENTATION INSTRUCTIONS
PATTERN 
RADIAL SYMMETRY IN DESIGN: OPTION 1
Lesson Objectives:  Students will learn about pattern and radial symmetry.  
Time Required:      1 hour
Artist: Chuck Thurston, Radial Symmetry #3 (Scroll down on website for Radial Symmetry # 1, 2, 3 & 4)

Website: http://www.thurstondesign.us/ct-art.html







Materials:
12×12 white sulfite drawing paper (or any sturdy paper that is translucent enough to trace through)
6×6 white sulfite drawing paper
Pencil
Paper clips
Fine black Sharpie
Watercolor markers, colored pencils, or watercolor paints
Black construction paper
Scissors
Glue sticks
Presentation:
Discuss pattern. Explain radial symmetry: repeating patterns converge to a center point. 
Procedure:
With pencil, mark the upper left corner of the 12×12 paper with an "A" and the upper right with a "B". Turn the paper upside down and repeat.
On the 6×6 paper, put an "A" on the upper left corner. Behind the "A" on the back side of the paper, write a "B".
Create a design on the 6×6 paper that originates in the bottom right corner, diagonally opposite from the "A".
Turn the paper over and trace over it with pencil or a black pen.
Line up the "A"s on both papers with the 6×6 behind the 12×12. Paper clip together and trace over the design with black Sharpie.
Flip the 6×6 paper over so you see the "B" and line up the "B"s. Trace with black Sharpie.
Do the same with the bottom ½ of the 12×12 paper.
Color the design.
Cut out the design and glue to black construction paper.