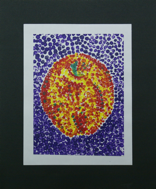 LESSON PRESENTATION INSTRUCTIONS
VALUE
POINTILLISM
Lesson Objectives: Students will learn how the use of color in different values creates depth and light while creating their own painting in the style of Seurat.
Time Required:      1 hour 
Artist: Georges Seurat: Sunday Afternoon on the Island of La Grand Jatte
Materials:
8"x10" canvas board, or poster board
Removable tape
Acrylic paints
Paper plate for palette
Cotton swabs 
Presentation:
Discuss artist and artwork.  Define and explain value and Pointillism. 
Procedure:
Before class, apply tape around border of canvas board.
Demonstrate techniques:  Show how two different colors of dots placed close together create the illusion of the color they would create when mixed; how to change the value of a color by adding darker or lighter colors to create shadows and light; and how the space between the dots affects the value of a single color. 
Students will use cotton swabs dipped lightly in paint to build up a picture using all dots.  Students are encouraged to fill the entire page with color – leaving no white spaces, up to and onto the taped edge.  White paint is where white is represented in the picture. 
Carefully remove tape only after painting is complete. 
Options:
Paper without removable tape can be used and then trimmed to get a "clean" edge.
This project could be done with oil pastels.