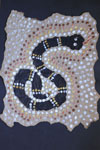 LESSON PRESENTATION INSTRUCTIONS
PATTERN
PATTERN SNAKE
Lesson Objectives: Students will use pattern and warm colors to create a painting in the style of Aboriginal Art.
Time Required: 1 hour
Artist:  Aboriginal Art
Source: The Usborne Complete Book of Art Ideas, pages 14-15
Materials:
Tan construction paper or brown paper bag (can crumple/tear edges for added effect)
Black, white, copper, brown, rust, gold acrylic paint
Q-tips
Big paint brush
Paper plates
Presentation:
Discuss how repeated elements create pattern.  Dots and circles are commonly used in Aboriginal pattern making. Discuss what a snake looks like and how curved lines show movement.
Procedure:
Students begin by painting a large black snake curling around the paper.
Using one of the metallic colors, have them paint a circle in the center of the snake.
Switching to Q-tips and using the warm colored paints:  Students will print lines of dots with one color to create stripes, leaving spaces in between.  Then they will switch colors and fill in between the stripes with more rows of dots.
Use white paint to add dots around the outline of the snake, trying to space the dots evenly.
Fill the inside of the center circle with concentric rings of white dots.
Using the white and warm colors, print flowers all around the snake.
Fill remaining background (negative space) with black dots.