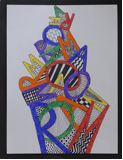 LESSON PRESENTATION INSTRUCTIONS
PATTERN
PATTERN NAME DRAWING
Lesson Objectives: Students will create a drawing using the letters in their first name and patterns.
Time Required: 1 hour
Source: http://deepspacesparkle.blogspot.com/2009/07/line-drawing-part-iii-name-designs.html 
Note: This is a great review lesson, for it covers line, pattern, shape, space, color, and texture.
Artist: Charles Searles, Dancer Series
Materials:
White paper 9×12
Pencils
Black Sharpies
Markers
Presentation:
Discuss what different kind of lines  and patterns there are: thick, thin, long, short, curvy, twirly, intersecting (tic-tac-toe), zig zag, wavy, etc.
Procedure:
Pass out white paper and pencils. Make sure paper is placed vertically.
Write names on back.
Starting on the bottom of the page with the first letter in their name, make a "bubble letter" outline. (line, shape) It will become a base of a tall tower of letters.
Move on to the next letter. You can angle the letters, place them sideways, or even upside down.
Show students how you can make the letters overlap. (space)
You do not have to go in order of the letters and you can use each letter more than once.
As you get closer to the top, the letters will become smaller. (space)
Once the tower of letters is complete, outline the letters with a black Sharpie.
Fill in the spaces between the letters with different patterns using a black Sharpie. (line, pattern, texture)
Color in the letters with a variety of colors. (color)
Mount on colored paper and return to students.