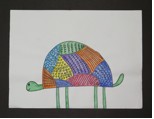 LESSON PRESENTATION INSTRUCTIONS
PATTERN
 PATCHWORK TURTLE 
Lesson Objectives:  Students demonstrate the ability to create patterns using a variety of line designs.
Time Required:      1 hour 
Artist: Henri Matisse, Interior with Dog, Elmer by David McKee (book)
Materials:
9"x12" white construction paper
Black Fine Point Sharpies
Watercolor pencils
Paintbrushes
Water
Paper towels
Presentation:
Read suggested book.  Have the students take turns describing the illustrations exhibited on the last page of the story.
Review different types of lines (straight, curved, curly, zig-zag, wide, skinny).  Explain and demonstrate how a repeated line will create a pattern. 
Procedure:
Pass out white paper and have students write their names on the back.
Guide the students in drawing a turtle with a pencil. Use simple curved lines to divide shell into large sections.
Trace over with black Sharpie. Instruct the students to fill each section with a pattern of lines, using a different type of line to create a new pattern in each one.
Color in the different sections of the shell and turtle with watercolor pencils.
Use a wet paintbrush to blend the colors within the sections.
Option:
This can be done with any animal with simple shapes, i.e. elephants as in Elmer.