LESSON PATTERN INSTRUCTIONS
SHAPE
PAPER MOLAS: OPTION 2 
Lesson Objectives: Students will learn about shape while creating a mola. 
Time Required:  1 session
Artist:  Kuna Indians (available online)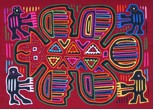 Source: www.dickblick.com/multicultural/mola/
Materials:
Colored construction paper 9×12
Scissors
Glue sticks
Presentation:    Discuss molas: brightly colored pieces of appliquéd cloth made by the Kuma Indians. Review shapes.
Procedure:
Select a traditional Mola design or a shape of their choice from the natural world around them.
Choose 4 colors of construction paper.
Draw the shape on 1 color of paper. Cut it out. Use it as a template to trace another shape on a different color, only this time make it lsightly larger, so that it appears as if there's a border around the 1st shape.
Repeat the process with a 3rd color. Glue the pieces togther and glue onto the center of 9×12 black construction paper.
From the scraps of paper left, students may cut and glue details on the shape they've chosen, as well as ornamental designs around the shape.
Create a border as well.