LESSON PATTERN INSTRUCTIONS
VALUE and PERSPECTIVE 
OPTICAL ART: WAVY LINES 
Lesson Objectives: To introduce the children to the art form of Optical Art and how artists use value and line to trick the eye.
Time Required: 1 hour
Artist: Victory Vasarely, Vega-Nor, 1969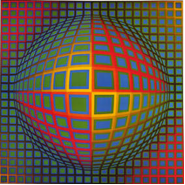 Materials:
Square White paper
Pencil
Ruler
Colored Pencils or Crayons 
Presentation:   
Discuss how value is used to show space and perspective.  How line is used to show movement, shape and space to create an optical illusion. 
Procedure:
1.  Using a ruler and pencil draw a line down the middle of the square.  Then draw another line across the page dividing the square into 4 equal parts. (See instructions in the binder)
2.  Next draw a line from one corner to the opposite corner.  Repeat for the other corners.  You should now have 8 equal pie shapes radiating from the center of the page. 
3.  Beginning in the center draw a concave line between two of the line.  In the section next to it draw a convex line. Repeat around all sections alternating concave and convex. 
4.  About an inch to 2 inches out, repeat another circle around the square alternating convex and concave.  Each of the 8 pie shapes should always have concave or convex lines, not a combination of both.  Continue until lines fill the page. 
5.  Color each pie shaped section alternating a color then black.  The pie section next to it should also have a color and black sections but the black sections should offset each other and not touch except at the corners.  See sample.  Color each small section darker toward the edges and lighter in the middle to give it the illusion of bending outward.