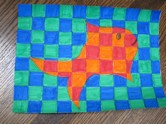 LESSON PATTERN INSTRUCTIONS
COLOR 
OP ART: WARM AND COOL
Lesson Objectives: To introduce the children to the art form of Optical Art and how artists use color and line to trick the eye.  It also teaches the children about warm and cool colors. 
Time Required: 1 hour 
Artist:  Bridget Riley         Print: Gaillard, 1989        High Sky II, 1992
Materials:
White paper
Pencil
Ruler
Markers
Presentation:   
Discuss the color wheel, warm and cool colors, complimentary colors and how they are used in art.
Procedure:
1.  Using a ruler and pencil draw a grid of one inch squares covering the entire paper. Draw vertical lines one inch apart (or about the width of a ruler) and then horizontal lines the same width.
2.  Draw a SIMPLE but LARGE shape over the top of the grid.
3. The shape will be colored with alternating warm colors and the background in alternating cool colors. 
Option:
This project can also be done using watercolors.