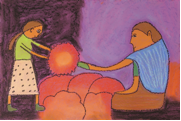 LESSON PRESENTATION INSTRUCTIONS
SHAPE 
MOTHER'S HELPER
Lesson Objectives: Students will use shape to re-create Diego Rivera's Mother's Helper in chalk pastel.
Time Required: 1 hour 
Artist: Diego Rivera, Mother's Helper
Source: www.deepspacesparkle.com/2012/07/30/diego-riveras-mothers-helper-art-lesson/
Materials:
Light purple construction paper 12×18
Chalk pastels
Black oil pastel
Wet Ones
Presentation:
Discuss shape and how artists can draw complex objects using simple shapes.
Procedure:
Pass out paper and write names on back. Orient paper horizontally.
Guide students in drawing the mother and child in pencil. Focus on breaking down the subjects into shapes.
Trace over with black oil pastel.
Color in with chalk pastels, blending with your finger.
Use the flat end of the chalk to cover broad areas, and the narrow end for smaller areas.