LESSON PATTERN INSTRUCTIONS
SHAPE
MOLAS: OPTION 1
Lesson Objectives: Students will learn about shape while creating a mola.
Time Required:  1 session
Artist:  Kuna Indians Molas (available online)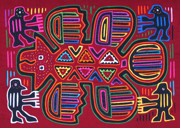 Source: Dynamic Art Projects for Children, pgs 81-85
Materials:
White and colored construction paper 12×18
Markers
Scissors
Pencils
Glue sticks
Mola patterns 
Presentation:    Discuss molas: brightly colored pieces of appliquéd cloth made by the Kuma Indians. Review shapes.
Procedure:
Draw a mola pattern on white construction paper. (See pg 85 for ideas). It's a simple outline filled with geometric shapes.
Color 2-3 bands of color around the mola.
Color in the mola.
Cut out the mola and glue onto a piece of colored construction paper.
Add colored paper strips around the mola with the glue stick.