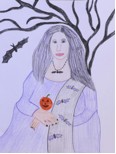 LESSON PRESENTATION INSTRUCTIONS
LINE 
MODERN MONA LISA
Lesson Objectives: Students will use learn to draw their own Mona Lisa, updating her for modern times.
Time Required: 1 hour
Artist: Leonardo da Vinci, Mona Lisa










Source: http://www.princetonol.com/groups/iad/lessons/elem/elem2.html
Materials:
9×12 white construction paper
12×18 construction paper
Photocopies of contour line drawings of Mona Lisa
Colored pencils
Presentation:
Discuss line and contour line drawings. Discuss right vs left brain with regards to art: creativity is a right-brain process, while logic and sequencing are a left-brain process.
Procedure:
Pass out 1 sheet of 9×12, 1 sheet of 12×18, and 1 photocopy of the contour line drawing to each student.
Explain that the students will be drawing upside-down to engage the left-brain in art.
Turn the contour drawing of Mona Lisa upside down, place the blank 9×12 paper immediately next to it, and cover both ¾ of the way with the 12×18 paper, leaving only ¼ of the page exposed.
The students should now draw the lines they see, not what they know.
When the complete the lines in that section, move the 12×18 paper down so more of the page is showing.
Continue in this manner, section by section, until the drawing is completed.
Now they can turn their own Mona Lisa right side up and color her in a modern way: with headphones and an iPod, in a sports jersey, etc. Add details and a background as desired.