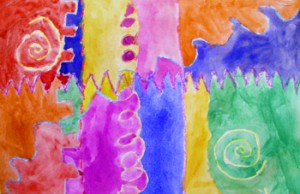 LESSON PRESENTATION INSTRUCTIONS
LINE
LINE VARIETY PAINTING
Lesson Objectives: Students will create a painting demonstrating their understanding of different types of lines and the names used to describe them, including horizontal, vertical, and diagonal.
Time Required:      1 hour
Artist: Kandinsky, Lines of Marks

Source: http://mrsbrownart.com/kindergarten.htm
Materials:
12"x18" White construction paper
Oil Pastels
Watercolor Paints
Paintbrushes
Water
Paper towels
Presentation:
Describe and define a line.  A line is a mark made with a tool (pencil, brush, stick, etc.) that shows the path created by a moving dot.  A line can vary in width, direction, curvature, length and even color.
Have students suggest different names of lines and demonstrate all the different types you can think of together.  (Straight, curved, bent, zig-zag, curly, wavy, thin, fat, etc. – then be sure to explain horizontal, vertical and diagonal.)
Procedure:
Pass out paper and have students write their names on the back.
Using oil pastels, guide the students through the process of creating the image by giving them a type of line and a direction that they will draw it.  Then switch to a new color oil pastel to get ready for the next line. 
After completing all the line drawings, the students use brightly colored watercolor paints to fill in the sections that were created.
Options:
Tempera paints or oil pastels could be used in lieu of watercolor paints.