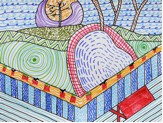 LESSON PRESENTATION INSTRUCTIONS
LINE 
LINE LANDSCAPE WITH RED POTS
Lesson Objectives: Students will create a landscape using only lines.
Time Required: 1 hour
Artist: David Hockney, Red Pots, 2000 (available online)







Materials:
White paper
Pencils
Rulers
Black Sharpies
Markers
Presentation:
Discuss different kinds of lines. What kind of lines do you see in David Hockney's painting? What other lines can you think of?
Procedure:
1)    Pass out white paper. Put names on back. Turn paper horizontally.
2)    With a ruler, draw a gentle "V" shape for the top of the fence. Add the slats for the fence and the lines for the boards on the deck with the ruler.
3)    Add details: red pots on the fence, a curved line for the pond, gentle waves for the landscape in the background, trees, etc.
4)    Trace over lines with black Sharpie.
5)    Color in sections by using different kinds of lines. For example, one section of the landscape can be filled with wavy lines, while another is filled with dashed lines, etc.
6)    Different colors in the sections will add interest.