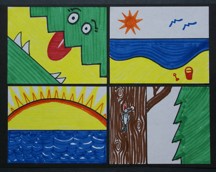 LESSON PRESENTATION INSTRUCTIONS
LINE
LINE DELIGHT
Lesson Objectives:  Students exercise divergent thinking while recognizing types of lines and how they can be used. Students use random lines as a basis for a design or image.
Time Required:      1 hour
Artist: Marc Franz, Deer in Forest
Materials:
9"x12" White construction paper, quartered
Colored markers
12"x18" Black construction paper
Scissors
Glue Stick
Presentation:
Review different varieties of lines (straight, curved, bent, thick, thin, etc.).  Define horizontal, vertical, diagonal, and parallel.
Procedure:
Challenge the students to create a design beginning with two lines, using a black marker. 
Beginning with one quartered rectangle, students use two lines to extend from one edge of the paper to another.  The lines can be horizontal, vertical, or diagonal but they do not have to be parallel.  Both lines must travel in the same direction.
Create a total of 4 different samples, encouraging them to use different lines in each. 
Black markers are set aside and color and details are added to complete a design or image. 
Arrange the four samples on the black construction paper and glue them down.