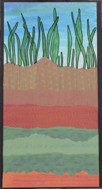 LESSON PRESENTATION INSTRUCTIONS
TEXTURE
LAYERED DIRT WITH GRASS 
Lesson Objectives: Students will create a print of different texture rubbings resembling the earth's layers.
Time Required: 1 hour
Artist: Grant Wood, Fall Planting
Materials:
White construction paper cut to 7 inches wide and 14 inches long.
Crayons
Construction paper of different colors to rub textures on, torn into strips ½ – 1 inch wide
Different textures (check Textures bin in Explore Art room)
Black Sharpies
Glue sticks
Green markers
Watercolor paint: blue
Paintbrushes
Dixie cups
Presentation:
Discuss texture and the difference between actual texture (if you touch it, you will be able to feel the texture) and the implied texture they will be creating today (it appears to the eye that you can feel the texture, but when you actually touch it, it's simply the paper.) Demonstrate how to make a paper rubbing on a surface: hold the paper over the rubbing surface firmly with one hand so it doesn't slip and color with the other hand over the entire paper, pressing hard.
Procedure:
Hand out the white paper and have students put their names on the back. Orient the paper vertically.
Draw a horizon line across he top of the page with a pencil. Paint with watercolor from the top of the paper to the horizon line. Set aside to dry.
Hand out different colored torn paper strips, enough for 6-8 different rubbings with different colored crayons. Instruct the students to make their rubbings.
Once the rubbings are complete, glue them on the white paper. Beginning at the horizon line, glue down the first one. Place the next strip of paper next to and overlapping the first one.
It's ok if the edges extend off the sides of the white paper. They can be trimmed off at the end.
Add grass with the green markers above the horizon line. Outline with black Sharpie.
Trim off any excess off the sides and mount.