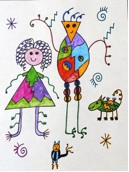 LESSON PRESENTATION INSTRUCTIONS
SHAPE
JOAN MIRO LOOK-ALIKES 
Lesson Objectives: Students will learn about shape while creating their own Joan Miro people.
Time Required: 1 hour
Artist:  Joan Miro, People and Dog in the Sun
Source: http://www.deepspacesparkle.com/2009/05/26/joan-miro-art-project/
Materials:
White construction paper 9×12
Black Sharpies
Markers 
Presentation:
Discuss shape. Show Joan Miro's painting. What shapes can you see in his painting?
Procedure:
Hand out white construction paper. Write names on back.
Have students select a shape for their person's head, body, etc. They should be different shapes, and they can draw more than 1 person plus an animal.
Outline the shapes in black Sharpie.
Add details with Sharpie: shapes within shapes, whimsical lines, etc.
Color in the shapes with markers.