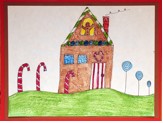 LESSON PRESENTATION INSTRUCTIONS
LINE
HOUSES
Lesson Objectives: Students will learn about different kinds of lines and use them to create a picture of a house. Options may be seasonal (gingerbread or haunted houses), or architectural (lighthouses, barns, etc.) or they can draw their own house.
Time Required:      1 hour                                           
Artist: Edward Hopper, House and Boats
Materials:
White construction paper 9×12
Pencils
Black sharpies
Watercolor crayons
Paintbrushes
Water
Paper towels
Presentation:
Discuss Edward Hopper's House and Boats. What kinds of lines does he use to make the house?
Have the kids brainstorm different kinds of lines: straight, wavy, curvy, zig zag, etc.
Procedure:
Pass out white construction paper and pencils.
Write names on the back.
Guide students to draw a house that fills the page. They may add their own adornments with different kinds of lines: windows and chimneys may be straight lines; for a gingerbread house, lollipops may be swirly lines; for a haunted house, squiggly lines may be used for ghosts peeking out of windows, etc.
Outline with black Sharpies.
Color in with watercolor crayons.
Use a wet paintbrush to blend the color.