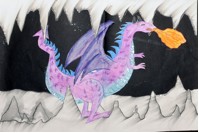 LESSON PRESENTATION INSTRUCTIONS
LINE
DRAGONS IN CAVES 
Lesson Objectives:  Students will learn about line while drawing a dragon.
Time Required: 2 sessions 

Artist: Chris Achilleos, Dragonspell (available online)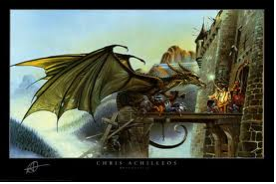 Source: Dynamic Art Projects for Children, pgs 102-106

Materials (Day 1):
12×18 white construction paper, 2 per student
12×18 black construction paper
Pencil
Watercolor pencils
Paintbrushes
Paper towels
Photocopies of examples of dragons                                       
Materials (Day 2):
Colored markers
Black Sharpies
Scissors
Elmer's glue
Q-tips
Fine white glitter
Presentation:
Discuss space in art and how depth is created by overlapping. Show examples of dragons, caves, stalactites and stalagmites.
Procedure, Session 1:
On one piece of 12×18 white paper, draw a dragon. (See information in the Binder.)
Color the dragon with watercolor pencils and use a wet paintbrush to blend the color. Set aside to dry.
On the 2nd piece of white paper, draw the cave: a series of jagged peaks and valleys along the top of the paper (stalactites) and the bottom (stalagmites).
Color with dark watercolor pencils (blue, black, or purple), and add water on a paintbrush to smear it. (Carbon paper method in the book was not effective.)
Procedure, Session 2:
Outline the dragon with black Sharpie and add details (scales, etc.) with colored markers.
Cut out the dragon.
Cut out the stalagmites and stalactites and arrange them and the dragon so that some are in front of and behind the dragon. Glue in place.
Use a Q-tip to run a thin line of glue down one side of every stalagmite and stalactite and sprinkle with white glitter to look like ice.