LESSON PRESENTATION INSTRUCTIONS
VALUE 
DELFT WINDMILL PAINTINGS 
Lesson Objectives:  Students will learn value while painting windmills in the tradition of Delftware ceramic tiles from the Netherlands.
Time Required: 1 hour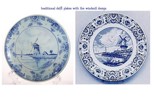 Source: Art Projects from Around the World, Grades 1-3, pages 33-34 
Website: http://www.delftpottery.com/
Materials:
8×8 inch white construction paper
9×9 inch blue construction paper
Tempera paint: blue and white
Paper plates or paint trays
Small paintbrushes
Water and cups
Glue
Presentation:
Discuss value. Discuss the history of Delftware. Show pictures of windmills.
Procedure:
Pass out white paper. Write names on back.
Using pencil, lightly draw a tulip in each corner. Draw a windmill in the center of the page.
Add landscape: swirling clouds, grass, fence, water, boat, tree, etc. Add appropriate details: windows, doors, etc. Keep it simple.
Place a small amount of the blue and white paint on the paper plate. Mix the colors together in differing amounts to create different values. Keep some of the original colors as well.
Paint the sketch in the different values of paint. Create contrast by painting dark colors next to light.
When dry, glue on to the blue paper to mount.