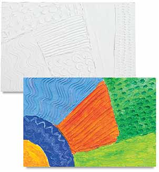 LESSON PRESENTATION INSTRUCTIONS
TEXTURE 
CRAZY QUILT TEXTURE BOARD
Lesson Objectives:  Students will explore the variety of textures they can create with modeling compound on a rigid surface.
Artist: Faith Ringgold, Dancing at the Louvre
Time Required:      Two sessions, 1 hour each
Materials (Day 1):
8"x10" firm cardboard
Pencil
Joint Compound
Containers with lids to dispense compound
Plastic spoons
Modeling tools
Materials (Day 2):
Paint
Paint brushes
Presentation:
Define texture.  How is texture helpful in creating works of art?  What else can be used to create texture in a painting?  (sand, crushed eggshells, fibers, etc.)
Procedure, Session 1:
Use a pencil to lightly divide the surface into at least six areas.  Areas can be round, square or assorted shapes and sizes.
Working one area at a time, drop a small amount of compound in the center of the shape with a spoon and spread evenly within the shape.  Use tools to form lines, peaks, crisscross lines, waves, etc.  Continue until entire board is full.
Procedure, Session 2:
Once dry, coat lightly with paint.  Textures will be further defined with color and shading. 
Tips or Options:
Cardboard and joint compound can be substituted with canvas panels and acrylic modeling paste.  Canvas panels should be coated with one layer of gesso to seal the surface for modeling paste.