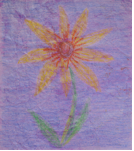 LESSON PRESENTATION INSTRUCTIONS
TEXTURE 
CRACKED WAX SUNFLOWER 
Lesson Objectives: Students will make a sunflower like Van Gogh using a crayon resist technique. 
Time Required:  1 hour
Artist:  Vincent Van Gogh, Sunflowers
Source: The Usborne Complete Book of Art Ideas, p. 82-83
Materials:
Copy paper
Crayons
Tempera paint: a dark color, like blue, purple, or black
Paintbrushes
Mounting paper and glue sticks
Iron, blow dryer and newspaper
Presentation:
Discuss texture and how Van Gogh created texture in his painting.
Procedure:
Hand out white paper and have them write their names on the backs of it. Orient it vertically.
Draw a sunflower in a pot. Color it all with crayons, pressing hard and coloring the whole page.  Leave no white space.
Have the kids show you before they crumple up the picture.  Crumple the paper in from the corners into a ball. Uncrumple the paper carefully so as not to tear it.  Crumple it again to get lots of cracks.
Flatten your picture. Have the kids get a plate of dark paint and a brush. Wash entire paper with paint. Make sure that you have brushed paint into all the cracks.
Have you or the helper rinse both side under running water. Let the water drip off.
If you have another helper they can dry with a blow dryer. If not, do the rest at home.
You or a helper could then use a warm setting iron to iron the sunflower picture between two pieces of newspaper, then mount. 
Option:
Use watered down tempera paint and blot with a paper towel.