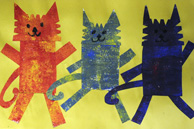 LESSON PRESENTATION INSTRUCTIONS
COLOR
COLORFUL CAT "TALES"
Lesson Objectives: Students will learn about color and how to create secondary colors using primary colors. 
Time Required: 2 sessions
Artist:  Michael Hall, author and illustrator of Cat Tale
Source: Deep Space Sparkle
Website: http://www.deepspacesparkle.com/shop/homophone-homonym-art-lesson-plan/
Materials (Day 1):
12 x 18 white construction paper
Tempera paints: Red, Yellow, Blue
Sponges
Paper plates or palettes
Materials (Day 2):
Painted papers from Day 1
Scissors
Glue
Black Oil Pastels
12×18 colored construction paper for the background
Presentation:
Read Michael Hall's Cat Tale. Discuss the color wheel, primary, and secondary colors.
Procedure (Day 1):
Either fold the paper into 3 sections 6×9 or divide it using pencil lines before you pass out the paper to the students. Write name on back. 
Using a sponge, dab red paint onto one of the 6×9 sections. With the same sponge, dab yellow paint over the same section, creating orange.
For the middle section, use a clean sponge dipped into yellow paint to cover the white paper. With the same sponge, dip into blue paint and dab over the yellow, creating green.
For the final section, using a clean sponge, dab red paint over the white paper. With the same sponge, dip into the blue paint and dab over the red paint, creating purple.
Let dry. Cut colored sections apart and paper clip them together with the child's name on the back of each one.
Procedure (Day 2):
Pass out the students' papers from Day 1 and black oil pastels. Using simple shapes and the black oil pastel, have students draw a cat head, body, arms, legs, and tail on the back of one section of the colored paper they painted. (see handout in binder).
Cut out each piece and glue it together into a cat onto one end of a colored 12×18 piece laid out horizontally.
Do the same with the remaining two sections, having fun with creating different cat poses!
Add eyes, nose, and a mouth with black oil pastel.