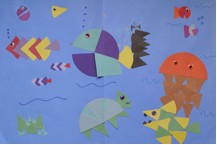 LESSON PRESENTATION INSTRUCTIONS
SHAPE
COLOR ZOO
Lesson Objectives:  Students will learn different types of geometric shapes. Using Lois Ehlert's book Color Zoo, students will create an animal collage with shapes.
Time Required: 45 minutes to 1 hour
Artist: Deborah Butterfield,  Palma
           Lois Ehlert, Color Zoo (book)
Materials:
Pre-cut geometric shapes such as rectangles, squares, circles, and triangles of all shapes and sizes cut out of red, blue, yellow, green, and black construction paper   
Glue sticks     
8.5'x 11.5' white construction paper
9' x 12' construction paper for mounting       
Presentation:
Read Color Zoo, pointing out how Lois Ehlert uses simple shapes to create her animals. Show how we used straight and angular lines and geometric (rectangle and square) shapes to create art. Show the Powerpoint presentation on Shape and Lois Ehlert's Color Zoo.
Procedure:
Give each child one large sheet of white paper and a handful of pre-cut shapes in all sizes and widths.  Have the students put their names on the back.
Encourage children to glue their shapes onto white paper to create an animal.
After class:  To "finish" the artwork and prepare it for display, an adult mounts the white paper to a 9'x12' construction paper.  Pick a bright background paper for a border that makes the artwork "pop".  Remember to record their names before gluing.