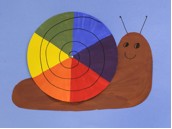 LESSON PRESENTATION INSTRUCTIONS
COLOR 
COLOR WHEEL SNAILS
Lesson Objectives: Student will learn about primary and secondary colors. 
Time Required:  1 hour and a few minutes another time
Artist: Miriam Schapiro, I'm Dancing as Fast as I Can, White Rabbit's Color Book by Alan Baker (book)
Materials:
White construction paper 9×12
Circles pre-cut from white construction paper divided by pencil into 6 wedges
Tempera paint: red, blue, yellow
Paper plates or paint palettes
Paintbrushes
Brads
Black Sharpies
Presentation:
Discuss color and the color wheel.
Procedure:
Pass out 1 circle and 1 piece of paper to each child. Write names on back of both.
Orient paper horizontally and trace circle template onto white paper in the center. Add on a snail body.
Set paper aside.
Step-by-step, have the students paint 1 wedge of the circle red. Skip a wedge and paint the next yellow. Skip a wedge and paint the next one blue. Now you'll have alternating wedges painted in the primary colors.
Mix red and yellow to make orange and paint the wedge between the red and yellow wedges.
Mix yellow and blue to make green and paint the wedge in between the yellow and blue.
Mix blue and red to make purple and paint the wedge in between the red and blue.
Set color wheels aside to dry.
With the white construction paper with the snail drawn on: mix all the colors together to make brown and paint the snail body.
When dry, cut out snail body and attach color wheel as the snail's shell with a brad on a 9×12 piece of construction paper.
With black Sharpie, have students add a spiral to the color wheel, antennae, and a face.