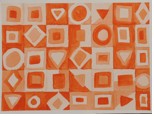 LESSON PRESENTATION INSTRUCTIONS
VALUE
CHUCK CLOSE VALUE SQUARES
Lesson Objectives:  Students will learn value and painting in cells.
Time Required: 1 hour 
Artist: Chuck Close, Self Portrait
Source: http://www.thatartistwoman.org/2011/01/using-color-cells-in-style-of-chuck.html 
Materials:
9×12 watercolor paper taped to cardboard and divided into 2×2 squares
Watercolors: each student selects 1 color: i.e. orange, blue or green
Paintbrushes
Water and cups
Paper towels
Presentation:
Discuss value. The more light there is in a color, the higher in value it is. (lighter color). The less light there is in a color, the lower in value it is. (darker color). Show how Chuck Close uses value in his painting. Demonstrate how to create high and low values by adjusting the amount of water used.
Procedure:
Pass out paper. Write names on tape. Orient horizontally.
With the lightest value, paint in a couple of squares with a strip of color or a shape. Vary the sizes among the squares.
Tip: Paint randomly, giving one square a chance to dry before you paint the squares adjacent to it to prevent bleeding of colors.
Turn the board ¼ turn and add in a couple more shapes.
Change the value, using less water. Paint a few more sections of the squares. Turn the board ¼ turn and do a few more from this new angle.
Keep increasing the value by using less water and rotating the board for different perspectives until no white is showing.