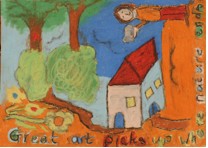 LESSON PRESENTATION INSTRUCTIONS
COLOR 
CHAGALL OIL PASTELS DRAWING
Lesson Objectives: Students will learn about color while creating a surreal oil pastel drawing in the style of Marc Chagall.
Time Required: 1 hour
Artist:  Marc Chagall, I and the Village
Source: http://www.princetonol.com/groups/iad/lessons/elem/Stephanie-Chagall.htm
Materials:
12×18 white construction paper
Oil pastels
Presentation:
Discuss Marc Chagall and surrealism. He paints with a dreamlike quality, where the impossible becomes possible.
Procedure:
Hand out white paper. Write names on back.
Using black oil pastel, write "Great art picks up where nature ends" around the edges of their paper.
Draw a house, then turn their papers. Draw themselves holding something they like from this new orientation.
Turn their papers. Draw trees and/or flowers.
Include a sun or a moon with a face.
Now fill in all the outlines with oil pastel, being sure to have intense color like Marc Chagall.