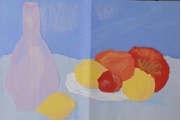 LESSON PRESENTATION INSTRUCTIONS
SPACE 
CEZANNE STILL LIFE COLLAGE
Lesson Objectives:  Students will learn about space by using overlapping, size, and perspective while creating a still life in the style of Cezanne. 
Artist: Paul Cezanne, Still Life 
Time Required: 1 hour
Materials:                                                                               
White tablecloth, tall vase, various fruits
12×18 blue construction paper
6×18 white construction paper
Variety of colored construction paper, cut to size with regard to items displayed
Scissors
Glue sticks
Black and white chalk pastel
Tissue
Presentation:
Discuss artist and artwork. Still life is art showing inanimate objects. Have still life set up in the middle of the room so the students will all get a different perspective.
Procedure:
Students use the colored papers to cut out the items for the still life.
Starting with the tablecloth, cut a wavy line to reach from one side of the paper to the other.
The vase may be cut out of a folded piece of paper so that it is symmetrical.
Cut out or tear fruit and arrange on the paper by overlapping to create space.
Glue the shapes down staring with the ones in back first.
Use black chalk on 1 side to show shadows and white chalk on the other side to show reflective light. This will give the flat shapes form, creating the illusion of a third dimension: depth. Blend the chalk with tissue.