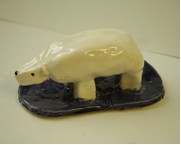 LESSON PRESENTATION INSTRUCTIONS
FORM 
CERAMIC BEARS
Lesson Objectives: Students will use the pinch pot method to make a bear.
Students are introduced to the technique of pinch pots, slabs, and scoring. Form is recognized when 3 dimensions are present (height, width, and depth).
Time Required: 2 sessions
Source: http://www.thatartistwoman.org/2010/05/how-to-make-clay-polar-bear.html
Artist: Kathe Kollwitz, Self-Portrait
Materials (Day 1):
            Clay
            Paper bag or cardboard placemats
            Water
            Carving tools
            Rolling pins           
Materials (Day 2):
            Glaze
            Paintbrushes
            Dixie cups
Presentation:
Discuss form: includes all 3 dimensions (height, width, and depth). Discuss the pinch pot, slab, and scoring techniques.
Procedure, Session 1:
Dispense pieces of clay.
Have the child cut off a piece of clay (a bit less than ½ of the total amount of clay). Roll it to about ¼ inch thick.
Cut out an oval shape. Carve initials into the bottom of the base. Smooth edges with a wet fingertip.
With the scraps, mold 4 bear legs, roughly rectangular, short and stubby.
Attach the legs to the base using the scoring technique: carve hatch marks //// horizontally and vertically to create tic tac toe marks ### on the base of the leg and the slab. Add water to both surfaces to create slip (glue). Wriggle the leg into place on the base.
Pay attention to the placement of the legs. This is a bear, not an alligator! The front and back legs should be far enough apart to suggest the length of a bear, not any other creature.