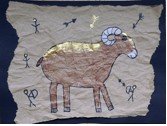 LESSON PRESENTATION INSTRUCTIONS
TEXTURE
CAVE DRAWINGS
Lesson Objectives: Students will recognize how texture distinguishes different animals and creates a distressed look for their own cave art.
Time Required:            1 hour
Artist:  Douglas Mazonowicz  (multiple prints)
Paleolithic Chinese Horse
Website: http://thedordogne.info/dordogne/vezere-valleys-prehistoric-underground-museums/
Materials:
Paper bags torn smaller than 9×12 or sandpaper
Construction paper crayons: black, brown, red,  yellow, and white
Black sharpies
Acrylic gold metallic paint
Black mounting paper 9×12
Presentation:
Show video of the web page. Discuss texture. Discuss simplistic style of cave art with the limited use of colors available. Their canvas was textured rock: how did that impact what the animals looked like? Discuss what the scenes of the hunt meant and why they were so important to these people.
Procedure:
Pass out paper bags. Have the students crumple it into a ball and then flatten it out on their desk. Do this 2-3 times to get a good texture in the paper bag. Write name on back.
Have students draw a bison, sheep, or deer on the paper bag in pencil. With guided drawing, these can be easily accomplished by showing how to draw the animals using simple shapes in a step-by-step process.
Trace outline with black Sharipe.
Color animal with crayons.
With black Sharpie, add in stick figures of men, bow and arrows, etc.
Using gold acrylic paint, add small accents to animals.
Mount on black paper.